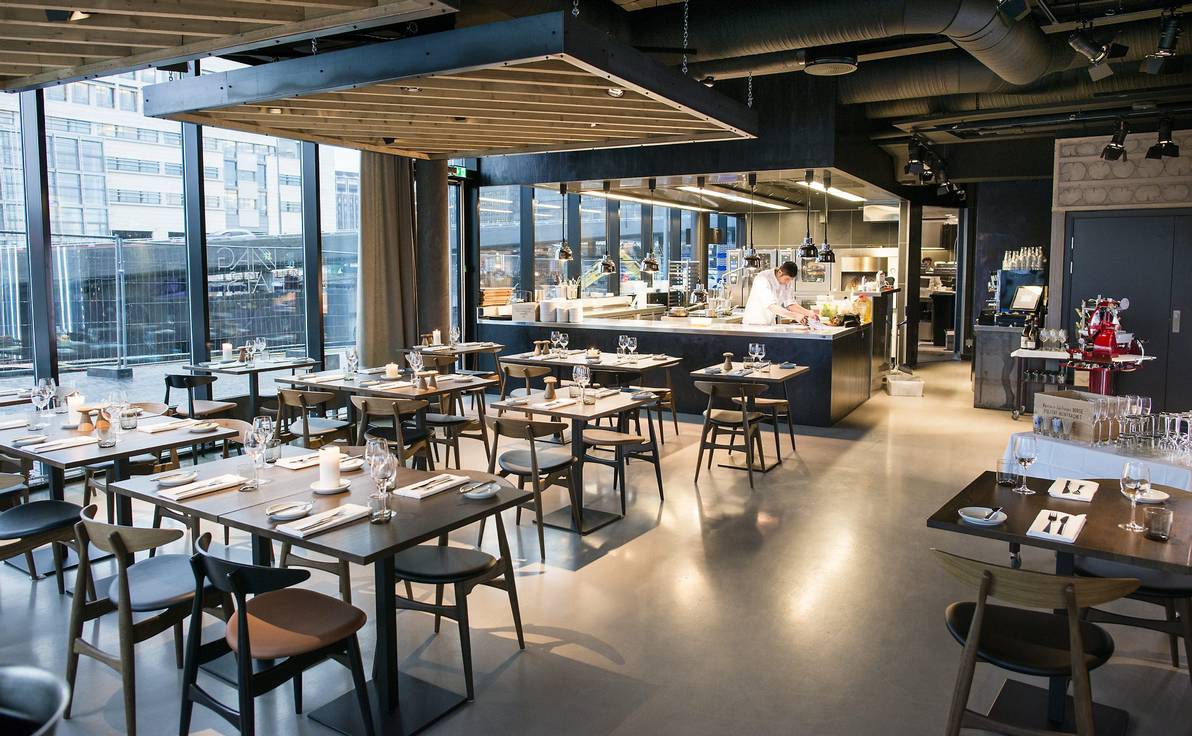 There's something magical about watching a talented cook prepare a vegetable stir-fry or flame-grilled burger in front of you. Red peppers and broccoli florets sizzle in the wok; the flame of the grill reaches up to surround the freshly-formed patty. Now more than ever, customers want to participate in the culinary experience. Operators and consultants responded by breaking down walls between the back-of-house and dining rooms and designing open display kitchens.
"Display kitchens allow customers to see that the food is fresh and that employees are preparing it in a safe, caring way," says John Birchfield, FCSI, Principal at Birchfield Jacobs Foodsystems, Baltimore. Across all segments, from fine-dining establishments to quick-service restaurants to healthcare and higher education serveries, display kitchens dominate design.
Costel Coca, Design Principal at Webb Foodservice Design, Tustin, Calif., says, "On our university projects, exhibition cooking isn't even a question anymore, it's the baseline. We're now starting to get a lot more K-12 projects asking for exhibition cooking—operators who traditionally relied on back-of-house kitchens. With open kitchens, students have a better connectivity to the culinary process.
"But designing open kitchens presents challenges. Consultants are faced with creating a kitchen that's operationally efficient and visually pleasing, not just in the interest the food preparation generates, but in the ability for employees to keep it neat and clean. Planning the menu concept, specifying the right equipment, thinking through utilities and ventilation requirements and paying attention to details will lead to a winning design.
Concept To Equipment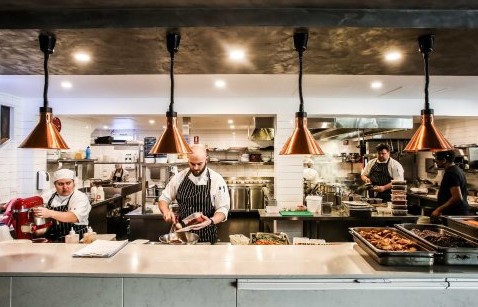 There are as many versions of display kitchens as there are designers. But generally, consultants start by defining the menu concept, and then specify supporting equipment, organized by the most exciting, theater-like pieces upfront near customers and the prep and warewashing workhorses further back. 
Manufacturers have stepped up by building stunning, quality equipment, from color-coated ranges to refrigerators with curved edges for a less-institutional, boxy look.
"One of the biggest mistakes is designing a kitchen without knowing your menu concepts and what you want to prepare out front because that makes a big difference in getting the right equipment and the right layout," says Carolyn Ruck, Principal at Ruck-Shockey Associates, Truckee, Calif. "And build flexibility into your program so that you can change concepts. Some operators will build big kitchens without really knowing what they want to do and then they're limited."
If you have only minimal space in the front-of-house, you'll need to decide what part of your menu to focus on closest to the customer. Do you want to highlight a build-your-own pizza bar with a hearth oven or is Asian food a big draw and you'll need a stir-fry station with customer-facing wok induction cooktops?
Reggie Daniel, FCSI, CHM, MCFE, Design Director at Atlanta/Charlotte, N.C.-based Camacho, says, each concept presents different challenges. "Burger joints, pizza places, fine-dining restaurants—they all have their quirks that you have to keep in mind when you're putting the kitchen together. In many cases, you have to take something that's bland and make it exciting. You want the guys who are flipping the dough up in the air and then catching it, not putting it into a press and then into a conveyor oven—otherwise you may as well do it behind a wall because there's nothing sexy about it."
If you have ample front-of-house space or if customers can view the entire kitchen, designers have ways of creating focus on the action stations and minimizing sightlines to the less romantic but necessary tasks.
To hide tasks, "We often use partial walls or tall equipment, such as interesting-looking storage racks holding whisks and spoons, not just sheet pans, to downplay the back area and draw guests' eyes to where you want it to be—on the cooking equipment," says Pamela Eaton, FCSI, LEED AP BD+C, Regional Manager at Cini-Little Int'l., Germantown, Md.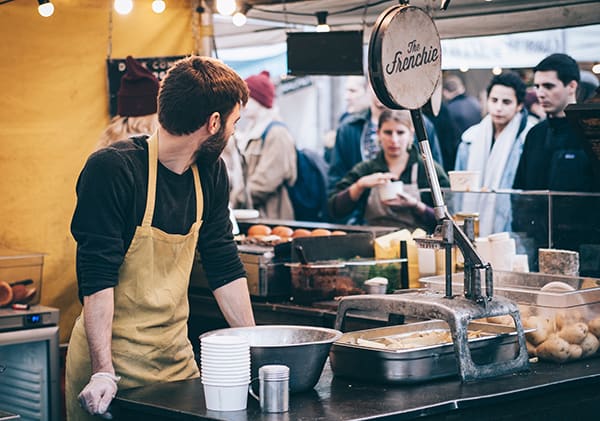 Conveniently, employees rely on the more action-packed equipment—cooking suites, electric griddles, gas-fired grills, hearth ovens—for the finishing and final assembly, which plays well into the operational flow of the kitchen. Food flows in from the back, employees bulk prep or bulk cook it and then move it to the front and into undercounter refrigerators or refrigerated drawers. (Food always flows forward and out.) Ideally, all ingredients needed for a meal period are within arm's reach of the cooks finishing the dishes.
Also related to operational flow, Armand Iaia, FCSI, Regional Manager at Cini-Little, suggests planning a convenient location for servers to pick up hot and cold foods. The pick-up area needs all the extras, including flatware and condiments, and must be out of the customers' circulation path. Generally, the hot-food pick-up station has heat lamps, which can block sightlines to the chefs if not planned well. Try to locate the pick-up area off to the side.
In today's market, you'll find manufacturers offer more elegantly-designed equipment than in the past. "Clients are paying for a stylistic look to the equipment whereas maybe 10-12 years ago, they would've considered the piece more of a commodity, easily replaceable—almost disposable," Birchfield says. "But with the stylization comes cost. Be careful of how you spend your money so you're doing it in key locations where it will really make the operation pop."
Consultants offer a few tips when choosing display-kitchen equipment: Avoid hot equipment with high backs facing customers; they won't be able to see the action. (Sounds obvious, but it's missed on a lot of projects.) On cooklines, put in for interconnected equipment versus multiple brands with varying heights.
Keep equipment as low profile as possible across the kitchen; you want the focus on the chefs. For example, opt for refrigerated bases versus tall refrigerators. And consider mobile equipment, which is easier to clean around and underneath. Certain prep equipment has a place in display kitchens too; add a slicer at a deli, for instance, so employees keep productive.
Discover how Specifi® is designed to provide architects and commercial kitchen designers all of the tools necessary to build all sorts of commercial kitchens.
The post Breaking Down the Walls Between Back-of-the-house and Dining Rooms appeared first on Specifi®.