When private equity firm Hargett Hunter Capital Partners, Raleigh, N.C., purchased in 2016 the Original ChopShop, an approachable, natural food restaurant with three units in the Phoenix area and a nearly cult following, it had big plans: to take the concept national. But first they needed a model restaurant.
The group opted for an unusual path: They would build and operate three slightly different prototype restaurants—then put the best elements of each into the fourth and final prototype.
The ChopShop features "just feel good food" (fresh juices, acai bowls, protein shakes, sandwiches, specialty drinks made to order in full view) served in a fun, "contemporary farmhouse" setting that mixes reclaimed wood, decorative tiles, stainless, slate and bright yellow metal bar stools.
In about nine busy months after the acquisition, the first of ChopShop's four prototypes opened in Queen Creek, Ariz., in April '17. At press time, this new store has become the young chain's second most profitable unit, after the flagship location in Scottsdale, Ariz. And thanks to a smarter back-of-house layout, the new design has allowed ChopShop to reduce labor by one person during peak times.
"It's been an incredibly collaborative approach between owners, vendors, contractors and us, the designers," says Steve Starr, Principal of Charlotte, N.C.-based Starr Design, the kitchen consulting firm tapped to oversee back-of-house plans. "Instead of spending $1 million on one fancy new store, ChopShop owners opted to invest $250,000 four times on four models."
"Instead of thinking abstractly about the concept on paper, ChopShop's new owners wanted to create a working laboratory, a testing ground," adds Jeff Cangro, Senior Project Manager for Starr Design.
 As originally printed in FER Magazine fermag.com
Room For Improvement
While almost perfect in the eyes of guests, the Chop-Shop needed operational fine-tuning before its national debut. 
A strong leadership team began working on a new design late in the summer of '16. Leading the way were ChopShop's new owners, CEO Jason Morgan (former CFO for Zoe's Kitchen), overseeing aesthetics and vision; and COO Kyle Frederick, operations expert and "the keeper of the flame— Kyle is present at all site visits and planning meetings," Cangro says. Starr Design, led by Starr and Cangro, came on board to handle kitchen design and layout. Equipment dealer Bresco, Birmingham, Ala., handled rough-in drawings, equipment choices and options.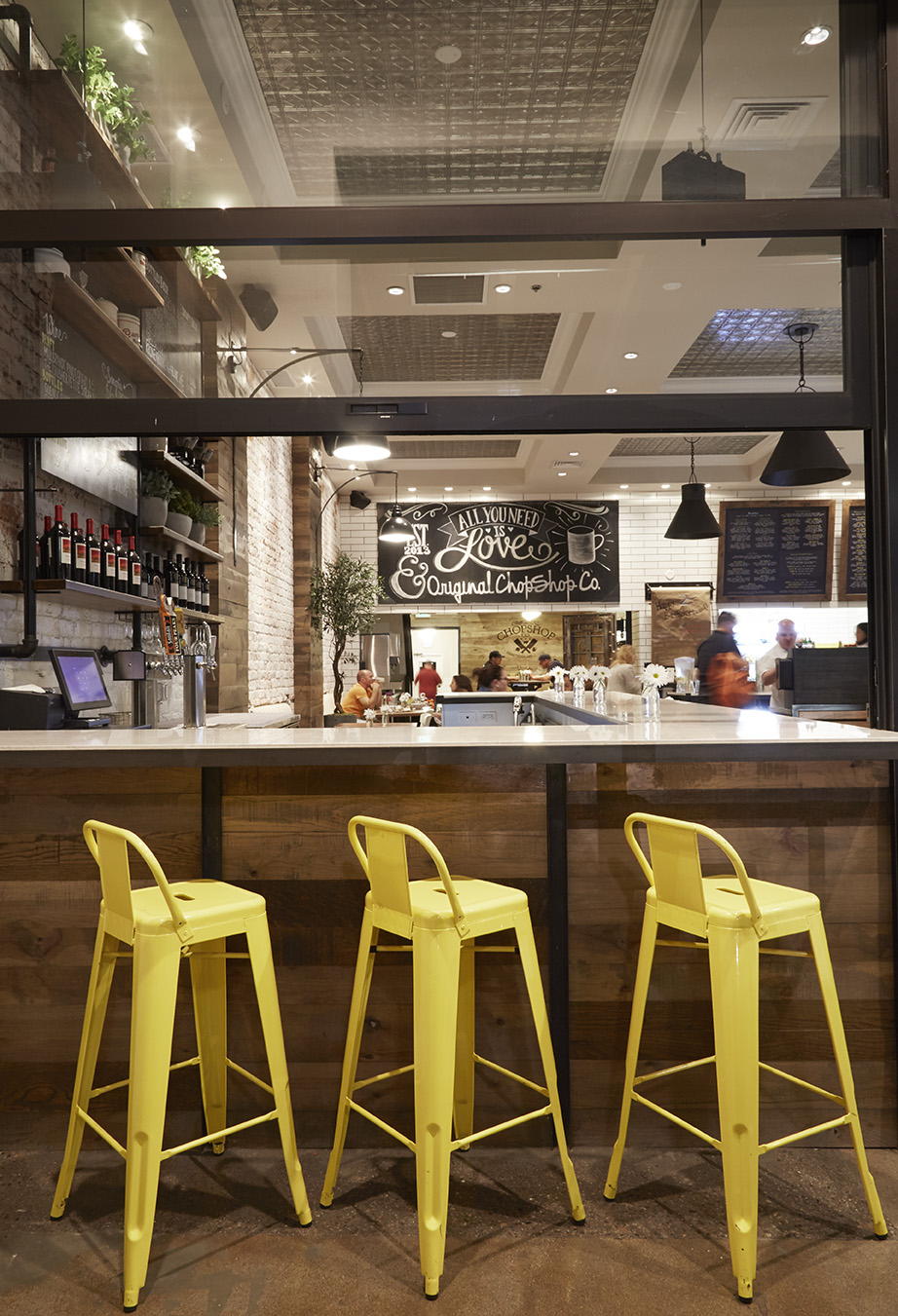 ChopShop's Evolution
Step one in the design process was to make ChopShop's hot and cold kitchens play well together. Kitchen planners moved the two areas next to each other and linked them with a center expo point at the pass-thru window. They kept the cold side in the front to provide theater and placed the hot side behind.
Storage and display combined were another key point. "As we planned the prototype, we wanted guests to be able to see the fresh product everywhere," Cangro says. Accordingly, baskets on walls and shelves, both above and below counters, store fruit and vegetables and the juicing station serves as focal point on the island.
"We visited each of the original stores, observed what they were doing well, recorded the top products and identified what defines the Chop-Shop brand and menu," Cangro says.
To better accommodate ChopShop's carry-out and to-go customers, who account for a good 40% of sales, planners added a carry-out staging area, a dedicated POS station and signage. Guests can wait for orders while sitting on a bench with a front-row view of employees pressing juices, making shakes, prepping fruits and more.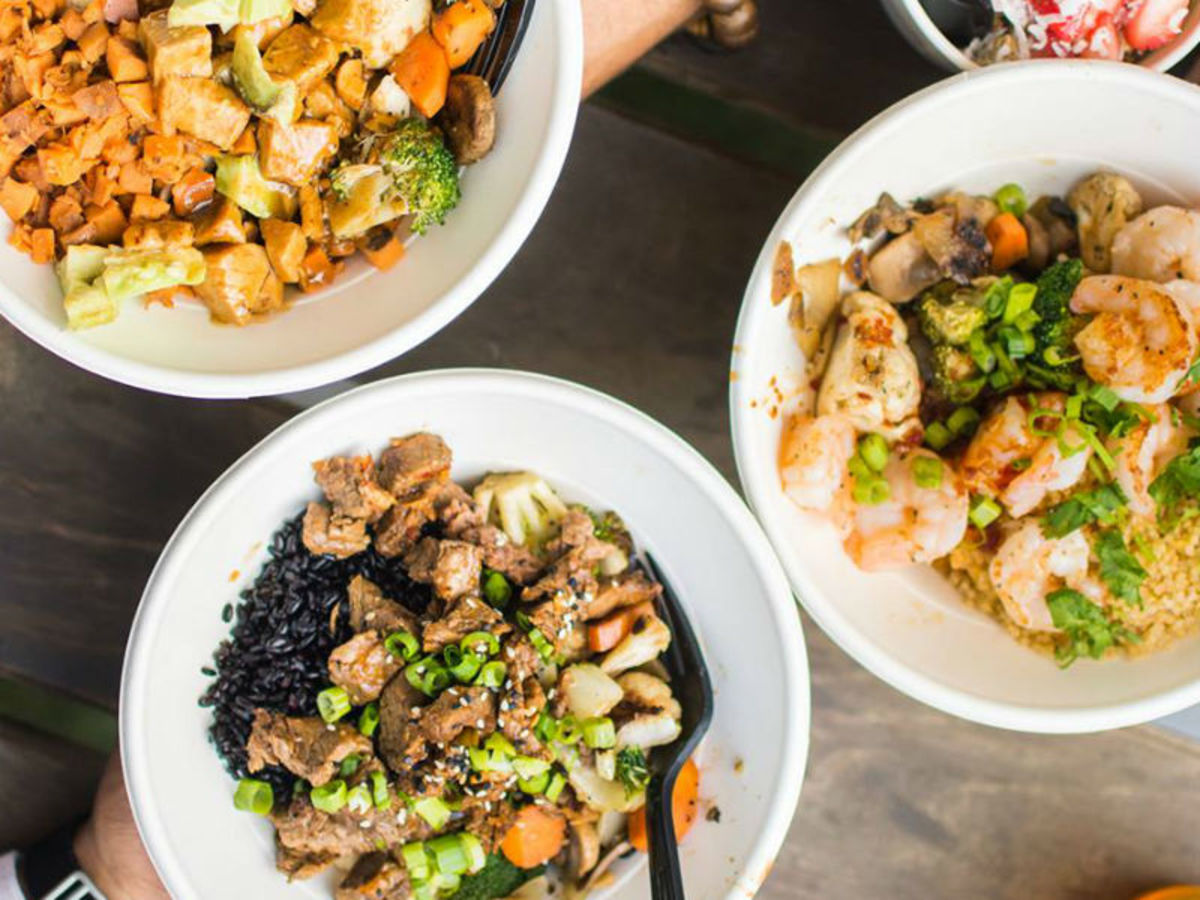 Another key addition to the Chop-Shop cookline has been a combi oven, which takes the place of the flattop and range when it comes to protein and vegetable production. "The combi lets the team prep and hold food in advance of peak times," Cangro says. "It's made such a difference in food quality and consistency that ChopShop has gone back and added combi ovens to its original three restaurants."
Big plans lie ahead for ChopShop. "We're wrapping up details for the fourth store (a V.3 model) and getting permits for the fifth location, which will serve as ChopShop's fourth—and final—prototype," Cangro says.
The company's goal for '18 is to open seven to 10 locations. At the same time, the operational lessons learned from Queen Creek and subsequent stores are leading to retrofits at the first three ChopShops, whose cooklines will be revamped to match the equipment line-up.
 As originally printed in FER Magazine fermag.com 
Discover how Specifi's Design software to provide architects and commercial kitchen designers all of the tools necessary to build all sorts of commercial kitchens.
Watch this 3 minute video to see how we can help you save time and assure the accuracy of your commercial kitchen projects
The post ChopShop Gets It Right appeared first on Specifi®.