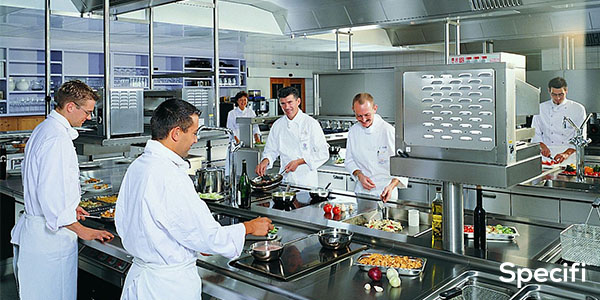 The first rule, It must be Safe, second, it must be as efficient as possible!
How safe and efficient can it be? Read more about Design Standards for Food and Catering Equipment for the next Decade.
No matter if you are opening a new restaurant or renovating your old one, your idea is to build and use your commercial kitchen at least in the following 10 years,right?
Building a new commercial kitchen and buying a new equipment is very expensive, so be sure to get all the information about design standards for food and catering equipment for the next decade to be able to follow low regulations and build a commercial kitchen that provides you maximum productive efficiency.
Make The Right Choices In Time
Productive efficiency is concerned with producing goods and services with the optimal combination of inputs to produce maximum output for the minimum cost. To be productively efficient means that your restaurant kitchen must be producing on its production possibility frontier.
If you consider that commercial kitchens are high energy users, consuming roughly 2.5 times more energy per square foot than any other commercial space, and 40% is used for the preparation and storage of food, you can easily conclude that much of the wasted energy is dispersed into the kitchen. New technology made a dramatic reduction in energy consumption, resulting in significant
cost savings.
Energy and Labor efficiencies can give your operation the edge
Restaurant owners who invest strategically can cut energy costs by between 10%-30%. By using professional software for kitchen design and management consulting services, energy savings can be as high as 40%, equating to 3%-6% of operating costs. The most cost effective route to take is having professional food service equipment plans produced for your restaurant needs.
The real concern in commercial kitchens is equipment that is often only 50% efficient. This is exactly what really happened when the low capital cost drives the choice of equipment with a little consideration for the whole life-cycle cost. You must be aware of these facts and do not make similar mistakes.
When investing in new equipment, calculate a sum of all recurring and one-time costs over a lifespan of a product. Don't forget to include factors such as idle energy rate usage, preheat energy consumption, operating hours per day, production capacity, and maintenance costs.
Get Familiar With Design Standards for Food Processing Equipment
It is very important that you check your country's laws and regulations regarding food processing and food storage equipment. If your restaurant is located in Europe you must be sure that your commercial kitchen equipment is in accordance with European CEN Standards that provide the safety design requirements for food processing machinery.
Currently, the most trusted name in food safety is NSF International . NSF led the development of more than 75 standards and protocols for sanitary food equipment and has certified thousands of products as safe to use in restaurant and commercial kitchen settings. NSF food equipment standards include requirements for material safety, design, construction and product performance.
The standards are made to establish minimum requirements: definitions, material specifications, design parameters, construction details, and performance of equipment necessary for easy cleanability, food protection, and the elimination of harborages.
If there is a published standard relevant to a machine you are purchasing, this should be specified in the purchase contract.
Tips to Improve Your Commercial Kitchen Efficiency with New Equipment
If you are buying equipment for a new kitchen or replacing some parts, you will need more information about catering equipment that will speed up your restaurant's kitchen flow and bring your bottom line to the next level. In a case that you are retrofitting old equipment with high-efficiency parts and accessories consider constant audit and monitoring that will give you insights in parts of equipment that should be replaced. Regularly record the energy consumption of the kitchen and set targets for reduction.
Induction Hobs. If you decide to use electric cooking, be sure to buy induction hob. It is up to 50% more efficient than a traditional electric hob because it only turns on when the pan is in direct contact with the electromagnetic field created by its electrical coil. Induction hobs providing huge energy savings and keeping the kitchen cooler, so you will also reduce money on your energy ventilation costs. The kitchen ventilation system represents one of the largest consumers of energy in the kitchen, often because it operates at full capacity even during idle times to control moisture, which can lead to mold growth and structural damage.
High-efficiency Steamers. The old style boiler-based steamers are history. The average old steamer was using 40 gallons of water per hour. The new models of high-efficiency steamers operate without a boiler or a drain so consume only one or two gallons of water per hour. High-efficiency steamers use far less energy and water. With improved isolation, heat loss has been reduced, so it provides the more efficient steam delivery system.
High-efficiency Grills switches itself on only when activated by the product being placed under the heat source and heat up in a few seconds with its infra-red elements.
New age Fryers are much more efficient. They got an advanced burner and heat exchanger design. The insulated pans retain heat so they offer faster cooking and faster temperature recovery times. They also require much less oil during food preparation. Advanced technology offers intelligent filtration system, which extends the life of used oil by tracking frying statistics and alarming operators when the filter must be changed.
Combi ovens can reduce energy costs by around 50% because they offer faster cooking by convection, steam and combination cooking, Look out for automatic fan switch-offs when the door is opened and triple-glazed viewing windows that saving up to 40% energy
The new generation of dishwashers has lots of energy-saving features. Choose the one with a heat recovery condenser device to reuse waste hot water to heat the incoming supply of water. New models have a more efficient wash and rinse pumps and better water filtration technology, which consumes less energy while improving the wash.
Lightening. Use modern sensors, including PIR , the passive infra red, which can detect movement over a range of 12 metres.
This was just an overview of some of the latest commercial kitchen equipment's features. Whether you are buying the equipment for new commercial kitchen or you renovate your old restaurant kitchen, engagement of commercial kitchen designer, the energy consultant, and installation team is recommended.
Note* A sudden, unexplainable rise in energy usage could be a warning sign that a piece of your commercial kitchen's equipment needs a maintenance. It is much safer and cheaper to do it in time
The post Design Standards for Commercial Kitchen Equipment appeared first on Specifi®.