Gray-on-white cone graphics. LED lighting.  Settee seating.  Online ordering. Friendly's has come a long way from its staid New England origins. 
Friendly's new prototype, opened in Marlborough, Mass., marks a great leap forward for the iconic ice-cream-and burger chain that dates back to 1935. The prototype easily handles fullservice dining, drive-thru and carry-out service from its compact kitchen.  The Friendly's of the future also features high-efficiency cooking equipment, LED lighting throughout, fiber-cement panels for the exterior build, and an updated interior décor.
The Marlborough store design proved itself out of the gate, "meeting and exceeding sales projections despite being the first business in the new shopping development to open," says David Panella, V.P. of Domestic Development for the Wilbraham, Mass.-based chain.  The results were so solid that Friendly's immediately began work on renovating two existing stores with the new cooking platform.
 As originally printed in FER Magazine fermag.com
Sundae Travelers
The inspiration behind Friendly's contemporary new direction comes from a most unlikely spot: Boston's Logan Airport, Terminal A. 
"People love our burgers and ice cream, but for the airport setting, we needed to be able to serve everything faster," Panella recalls.  Designers fitted Friendly's Logan Airport outlet, opened in April 2015, with the speediest cooking equipment available, including a Marshall Air chain broiler and Ovention ovens.  The footprint was super-small compared to typical friendly's kitchens.
The Logan Airport project sparked ideas.  "We began thinking about station cooking, with a grill cook, a fry cook and an assembly person.  And we started exploring speed-cooking equipment, which led to smaller hood sizes and a 25% less expensive equipment package," Panella says.  The addition of a kitchen display order system, which allowed orders to be divided between stations, tied everything together.
Friendly's Golden Triangle
The biggest piece of the puzzle was how the compact kitchen and fountain area could each serve three directions at once.  The solution was a "service core consisting of kitchen, fountain and drive-thru," Panella says.  "We designed a triangle of efficiency and built the building around it."
First challenge: a friendlier fountain area capable of supporting the three service areas.  "In the past, ice cream would be separate from the rail.  Workers would scoop, then turn around to add toppings," Panella explains.  The Marlborough prototype puts the fountain on full display at the entrance.  "Our new Randell cabinets have a landing spot for scooped ice cream, so workers never have to turn around."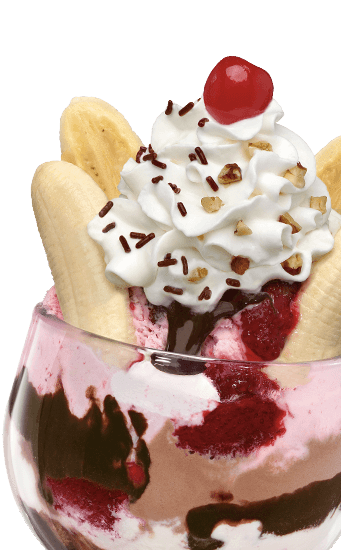 Facing front are twin ice cream cabinets—one dedicated to dine-in customers, one for walk-ups and drive-thru customers.  The shared back line—where employees make Fribbles, Friendly's signature milkshakes—comes equipped with mixers, additional ice cream storage and bar sinks.  "Now that it's all in one spot, workers rarely turn their backs on guests and speed of service for ice cream is way up," Panella says. Next, the kitchen.  Designers organized the layout so product flows to the right, then a left turn into a pass-thru window for the server pick-up or a right turn toward the drive-thru area.
The team settled on four pieces of high-efficiency cooking equipment: a Taylor clamshell griddle, Proluxe panini presses, Henny Penny fryer and a Marshall Air fry warmer.  The more efficient equipment meant the griddle could shrink to 3 ft.  Compared with the 8 ft.  Expanse of older stores.  Overall, the new kitchen covers 235 sq. ft. Compared with 295 sq. ft. Of the previous prototype.
"Our enhanced equipment package costs 25% less than the previous package," Panella says.  "And the tighter layout means workers save on steps. In slow periods, they also can share labor between stations—the drive-thru person can slide over and take an ice cream order and vice versa."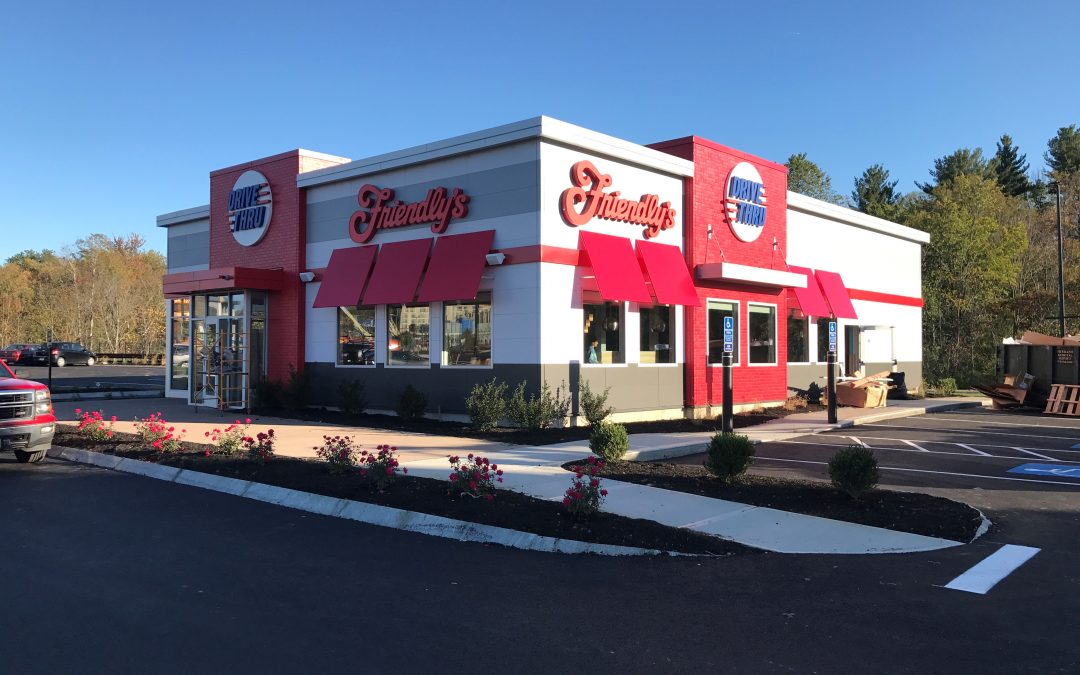 Not Plain Vanilla
The front-of-house and building envelope also earned a makeover.
The FOH's new décor, called Summit, echoes the ice cream array with reds, yellows and turquoise accents.  High ceilings and natural light give the interior a warm, inviting look.  Chair backs have cut-outs in the shape of the cone graphic as a handle.
The décor includes some cool, cost-saving tweaks to floor and wall coverings.  Carpeting plank tiles made by Milliken cover the dining room floor.  "We've used carpet tiles before but the plank look works better for our new design," Panella says.  As with carpet tiles, managers can replace the planks as needed in high-traffic areas or if one gets damaged.
Designers did the wall coverings in wood-look vinyl as a half-wall around the perimeter.  "Vinyl gives us cleanability and durability without the scratching or staining that wood suffers," says Panella, himself a veteran of many childimposed FOH clean-ups.
Lighting, inside and out, is all LED, done in partnership with Capitol Light.  "The food production areas use flat-panel LEDs—they're easy to clean, there are no bulbs to change, they're brighter," Panella says.  "But most of all, they're strong.  You can jab them with a mop handle and they don't break.  That's what sold us." 
The FOH also relies on LEDs for ceiling-mounted pendants as well as emergency and exit lighting.  "Our biggest improvement, however, was our exterior," Panella says. "We added LED lights under the eaves so light washes down to illuminate the building at night." 
The company plans to retrofit existing restaurants with LED.  "The payback in energy savings is about two to three years," Panella says.
 As originally printed in FER Magazine fermag.com 
Discover how Specifi's Design software to provide architects and commercial kitchen designers all of the tools necessary to build all sorts of commercial kitchens.
Watch this 3 minute video to see how we can help you save time and assure the accuracy of your commercial kitchen projects
The post Friendly's Kitchen Designed for Efficiency appeared first on Specifi®.