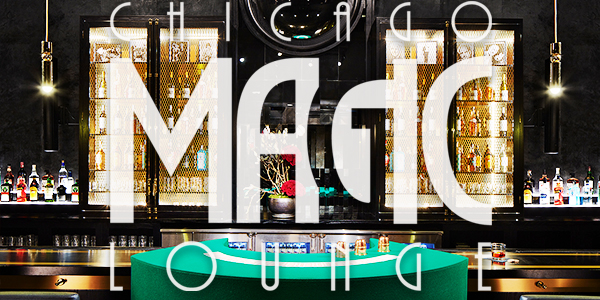 Chicago Magic Lounge:
Everywhere you Look, There's Something to Delight the Eye.
The Chicago Magic Lounge building, located in Chicago's Andersonville neighborhood at 5050 N. Clark Street, is easily overlooked by the uninitiated. Its unremarkable brick exterior sports no signage except for a plain white rectangle with an open circle in the center.
Old magic show flyers peeling from the brickwork cover the doorway. The door opens into a 77-sq.-ft. laundry room lined with what appears to be working washers and dryers. Then a secret door swings open. Guests step into a richly appointed space, called David's Bar, and the adjacent Magician's Library, with its two chairs and a flickering fireplace. Their guide for the evening welcomes everyone to the Lounge. When he selects a particular book from the shelf, another secret entrance reveals itself, granting access to the heart of the building. The inner sanctum includes the 118-seat Harry Blackstone Cabaret, the 43-seat 654 Club, plus a full kitchen and a service bar with a walk-in beer cooler and storage.
"Everything in this 7,200-sq.-ft. building is original to us, from the plumbing, AC, gas lines, grease traps, walls, and even our second floor," says co-owner and visionary for the project Joey Cranford, an actor, director and marketer who is now well-versed in building construction and kitchen and bar equipment. The theater reinvents the "magic bar" of Chicago's past. Shows include magic performances at the bar, table-side and on stage, showcasing the talents of about 40 local professionals and touring acts.
Four months into operations, the new venture is going gangbusters. "On Fridays and Saturdays, our two bars pour a combined 600 drinks per night, and the kitchen cranks out about 180 food orders," Cranford says. "With each show, once everyone is seated, it's instant rush. The kitchen and bar light up at once."
 As originally printed in FER Magazine fermag.com
Sleight Of Plan
Planning for the Chicago Magic Lounge building began in 2016. Cranford and co-owner Donald Clark, Jr., a Chicago businessman and entertainment producer, tapped theater designers David Burns and John Morris, Morris Architects Planners (the design firm behind Chicago's well-known Steppenwolf and Lookingglass theaters) for the overall vision and layout.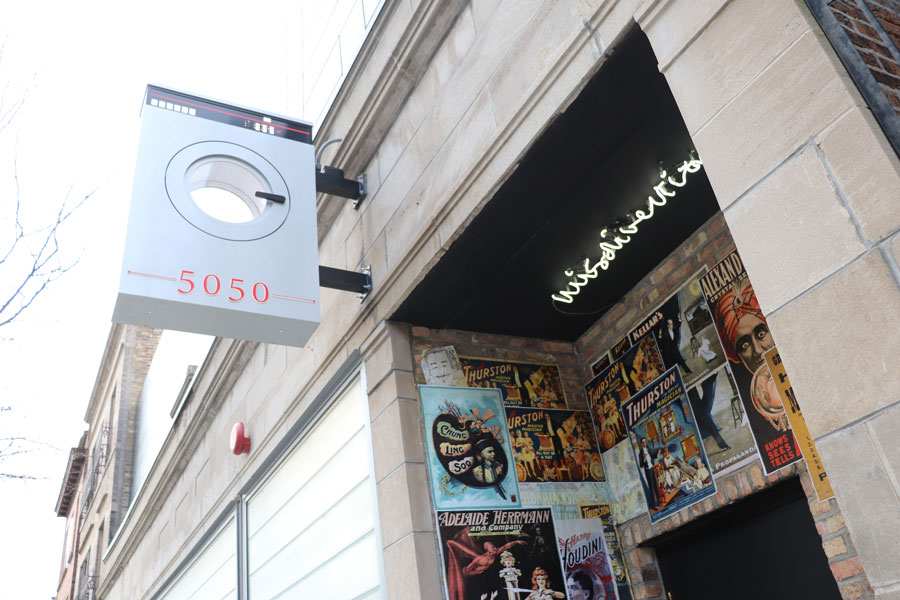 Lo Destro Construction, led by Nick Santarelli, handled general contracting. Alpha Design worked on the kitchen and bar drawings. In June '17, workers began gutting the interior of a 1940s commercial laundry facility for its eventual "presto, change-o" into theater. Eight fast and furious months later, the Chicago Magic Lounge opened for business.
Tight construction schedules required crews install core foodservice elements—plumbing, ventilation—early in the process, before the team finalized the kitchen design. And for someone new to foodservice, like Cranford, some of the elements contained surprises.
Case in point: the grease trap. "On the day of its installation, contractors dug a giant hole in the ground," Cranford recalls. "When the unit was delivered, it stood as much as 6-ft. tall, the size of one of our two-door reach-ins. Everyone was freaked out by the size. Our plumbers had never seen one that big and wondered what on earth we would be cooking. At that point we said, 'we don't actually know yet.' Our architect reassured me that this mammoth was indeed what code required, and so it was installed."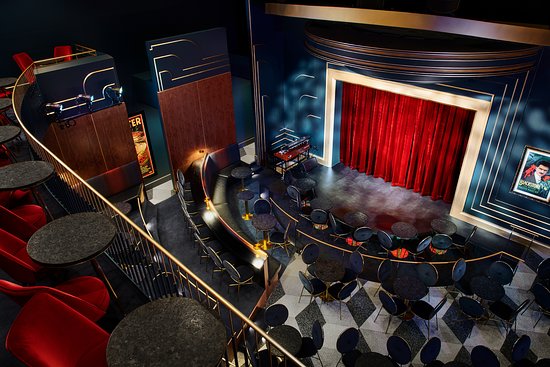 Cocktails & Card Tricks
Getting the space right, for performers, bartenders, and cook staff, was a priority for Cranford and his team.
"If we're going to ask our bartenders to make the very best cocktails, we need to give them the best tools," Cranford adds.
For Chicago Magic Lounge bartenders, the real magic can be found in the Tobin Ellis Cocktail Station by Perlick. "It's the Rolls-Royce of bars," Cranford says. "You can reach everything with only one or two steps. Bartenders dream about this system."
Highlights of the high-volume cockpit include two low-temperature refrigerated drawers, an insulated bottle well, a three-compartment ice bin to hold various types of ice, a rounded, concave speed rail so bartenders can stand closer to their work counter and guests and a prep sink fitted with a glass rinser, tool caddy and foot-operated faucets.
Parlor Tricks
The design team's attention to detail shows throughout the Chicago Magic Lounge—but only by those paying attention—in elements such as flooring, bathrooms and décor.
Flooring becomes increasingly fancy after each secret door. In the laundry room, the flooring is nondescript black and white linoleum tiles. The area by David's Bar and the Library features a terrazzo floor done in a 3D cube pattern, with each color offset by black dividing lines. And in the heart of the building, the terrazzo floor's "cube" pattern continues—but now is offset by gold dividing lines.
And throughout, the Chicago Magic Lounge serves as a love letter to the art of close-up prestidigitation. Authentic posters of famous magic acts, menus and signage from Chicago magic bars, and playing-card wallpapers fill the space. Everywhere you look, there's something to delight the eye.
  As originally printed in FER Magazine fermag.com
Discover how Specifi's Design software to provide architects and commercial kitchen designers all of the tools necessary to build all sorts of commercial kitchens.
Watch this 3 minute video to see how we can help you save time and assure the accuracy of your commercial kitchen projects
The post How a Commercial Laundry Facility Was Transformed Into a 'Magic Bar' of Chicago's Past appeared first on Specifi®.