In Yountville, Calif., Chef Thomas Keller's award-winning, Michelin-starred The French Laundry restaurant has leapt into its next 20 years of operation with a re-invention/ renovation that spanned four years and cost some $10 million. The resulting project preserved the original, historic stone building and its 62-seat dining room. Everything else was rethought, razed to the ground, expanded and rebuilt.
The French Laundry's new 1,980-sq.-ft. kitchen, re-opened in early 2017, is 25% larger than its predecessor and many times more contemporary. State-of-the-art equipment, immaculate white walls and countertops, and terrazzo flooring practically glisten in the light-filled space, topped by a show-stopping curved ceiling and skylight. A ribbon window connects cooks with the surrounding gardens, while giving guests a peek into the kitchen's inner workings.
A short walk-way connects the kitchen to the Annex, home to The French Laundry's support functions: prep kitchen, butchery, produce breakdown and offices. In its (above ground) wine cellar, the Annex has space to store up to 16,000 bottles.
Architecture firm Snøhetta helped bring to life Keller's vision to marry the classic with the contemporary. (The Louvre Art Museum, Paris, with its iconic glass pyramid entrance created by I.M. Pei, was a key inspiration.) Envelope A+D, Berkeley, Calif., served as executive architect. Tim Harrison, Principal at Harrison, Koellner LLC, Mill Valley, Calif., provided kitchen details, including layout and equipment specifications.
Keller's new kitchen combines aesthetics with efficiency. Some of its lesser-known attributes include its ventilation, construction and cold storage.
 As originally printed in FER Magazine fermag.com
White-On-White Kitchen
Designing the kitchen details and layout took much of two years of back-and-forth, and "about 18 iterations before we reached a plan that addressed all of Keller's needs," recalls Harrison, who has worked with the chef for more than two decades on various restaurant projects. An open floorplan provides a single, flowing work area for the entire culinary team. Low walls allow visual connections between stations.
Anchoring the work space are two Bonnet island suites, one for pastry, the other for savory items. "The pastry suite is all electric and induction, while the other has the standard solid tops, planchas, ranges and ovens," Harrison says. The French cooking suites were chosen, he says, for their simplicity and durability. "Keller wanted equipment that would last 20 more years," Harrison notes.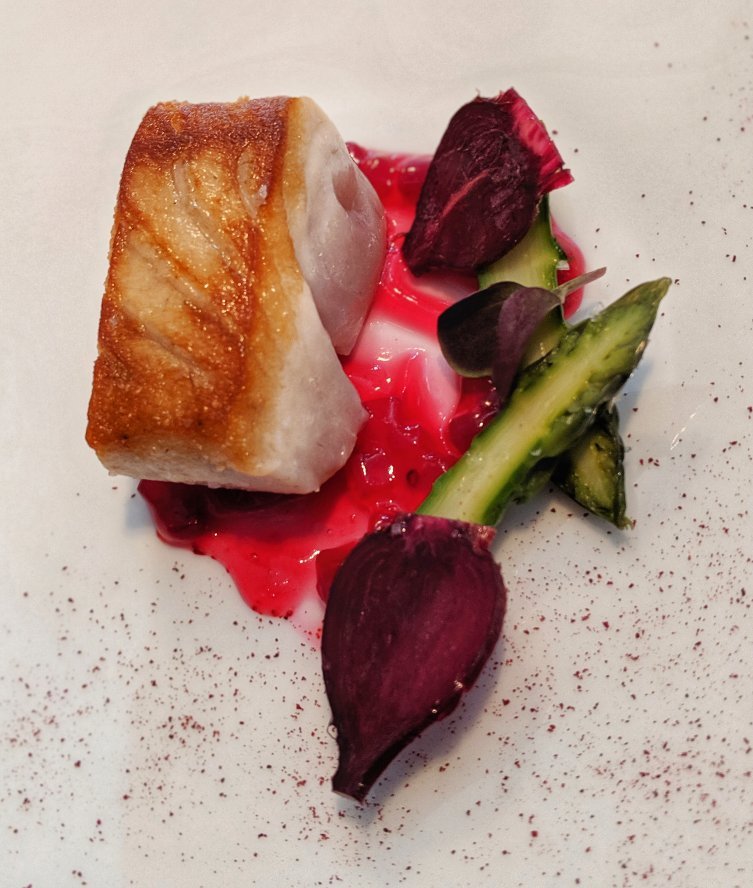 New to The French Laundry are a wood-burning hearth, rotisserie and cheese humidor. ("The solidfuel hearth, which can burn wood or charcoal, is small by comparison to other places," says Harrison.) Designers expanded areas for butchery, prep and dessert.
Ceilings, Swooping & Ventilated
Unique to The French Laundry, and visible through kitchen windows to guests strolling in the garden, are custom-made organically-shaped ceilings. Made of curved gypsum, fiber-reinforced panels by Kreysler & Associates, American Canyon, Calif., their daring curves are meant to evoke an unfurling linen cloth. They also hide ductwork along with electric and constructional elements. The ceiling soars to about 20 ft. at its highest point. At the top, skylights allow natural light to pour into the space. As a bonus, built-in sound baffles help dampen ambient noise.
A different overhead solution was required when it came to ventilating the kitchen's two cooking suites, however. "A traditional hood would have been 7 ft. above the floor— really low compared to the other half of the kitchen with its 20-ft.-high peak," Harrison says. He reached out to Halton, which had pioneered ventilated ceilings in Canada and at a few U.S. culinary schools. "Halton sent a team to California to meet with (and educate) local health inspectors and engineers. In the end, we prevailed."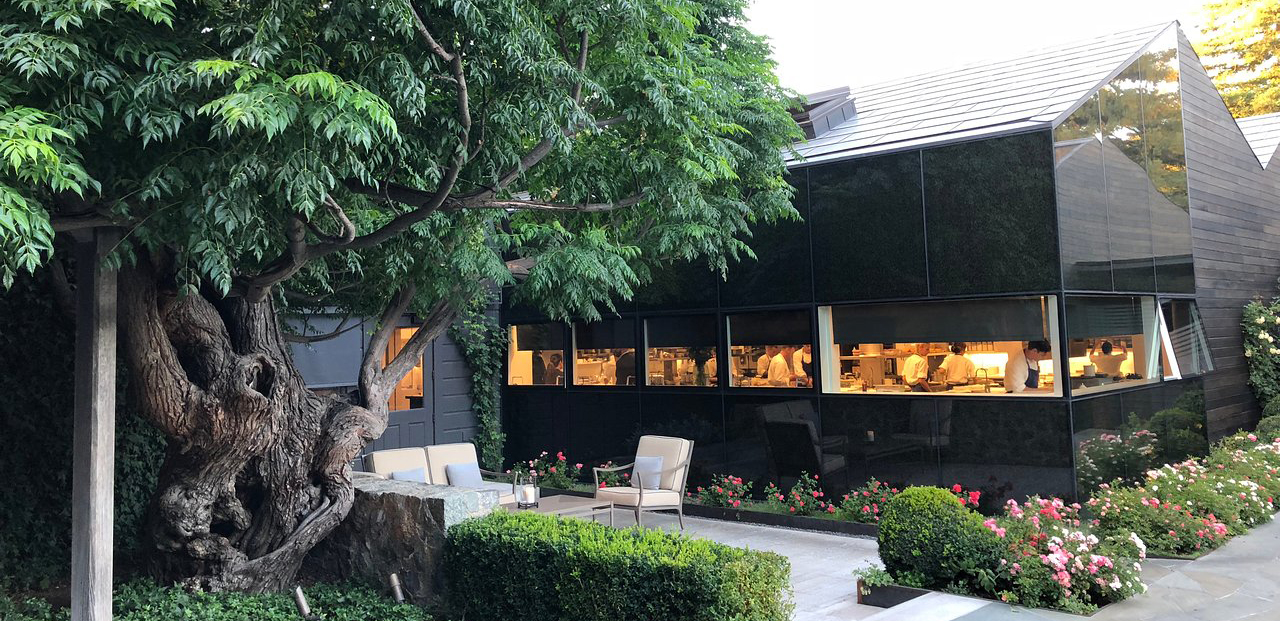 Below The 'Floating' Work Stations
One hallmark of Keller's kitchen is how equipment and counters appear to float above the floor thanks to installation on high concrete curbs rather than wheeled casters. In addition to aesthetics, the design choice also makes cleaning and maintenance much easier.
The request meant curbs had to be both tall and narrow, yet still strong enough to support counters and equipment, and still wide enough for the various pipes, drains and utility lines to be laid as needed.
The French Laundry has long relied on custom-built reach-in refrigerators and freezers rather than walk-ins. "We worked with a refrigerator supplier to create 102- in.-tall, single- and double-door units with custom-built shelving," Harrison says.  "Our goals are to isolate product to prevent cross-contamination; and to use every inch—in a walk-in, by contrast, you lose all the aisle space," Harrison says. Dedicated reach-ins include one for produce, for dairy, for meat, for fish. Employees store pre-prepped product in clear, Lexan bins. "Nothing is combined, everything is organized," Harrison says.
Green Aspects
Guests strolling the grounds would never notice one of the restaurant's coolest (literally) aspects. A geothermal ground-loop system and solar panels help offset heating and cooling costs. The geothermal system uses a series of deep holes and coolant running through pipes to carry the naturally cool underground temperatures to the restaurant's remote refrigeration systems. While not new to Keller's restaurant, the system was expanded considerably from its former scope. "Keller is always looking for energy-saving options," notes Harrison. On the Annex roof, solar panels by NRG Energy, Houston, provides up to half the electricity demand.
The project touched on nearly every aspect of the property. "By designing and constructing a new kitchen, arrival courtyard and auxiliary building that will complement… the historic value of our beautiful French Laundry," Keller was quoted, "we've cleaned the slate, begun anew and readied ourselves for the next 20 years."
As originally printed in FER Magazine fermag.com 
Discover how Specifi's Design software to provide architects and commercial kitchen designers all of the tools necessary to build all sorts of commercial kitchens.
Watch this 3 minute video to see how we can help you save time and assure the accuracy of your commercial kitchen projects
The post How The French Laundry's New Kitchen Combines Aesthetics with Efficiency appeared first on Specifi®.