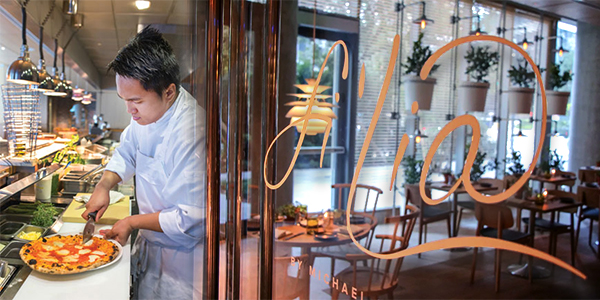 Schwartz's vision drew on his love of Italian cuisine and renowned French interior designer Philippe Starck created Fi'lia's front-of-house décor.
In 2015, Chef Michael Schwartz (above)—iconic South Florida restaurateur, owner of The Genuine Hospitality Group, James Beard award winner and cookbook author—stepped up to create a new concept on the ground floor of one of Miami's hottest new developments. The SLS Brickell hotel, developed and owned by SBE, would include 124 hotel guest rooms, luxury condominium units and more than 55,000 sq. ft. of indoor and outdoor meeting space, as well as two celebrity chef-run restaurants (Schwartz's concept, and also a seafood concept by Chef Jose Andres called Bazaar Mar).
Schwartz's vision drew on his love of Italian cuisine and the most popular food elements from his Miami restaurants, Cypress Tavern and Michael's Genuine. The resulting concept, dubbed Fi'lia ("daughter" in Italian) serves breakfast through dinner. The menu features house-made pastas, artisanal breads, rustic pizzas, and seasonal produce dishes prepared in a display cooking area over open flames. Renowned French interior designer Philippe Starck created Fi'lia's front-of-house décor.
SLS Brickell, along with Fi'lia and sister restaurant Bazaar Mar, opened in August '16 to great acclaim.
 As originally printed in FER Magazine fermag.com
Visiting Fi'lia
What Fi'lia guests see as they enter the restaurant are miniature orange trees in white ceramic pots suspended in mid-air that add greenery and a little shade to the floor-to-ceiling windows. Tables (rectangular, round and square) with whimsical chairs provide seating variety. Natural-colored wood floors and ceilings accented by brick walls and marble counters blend rustic with modern elements. .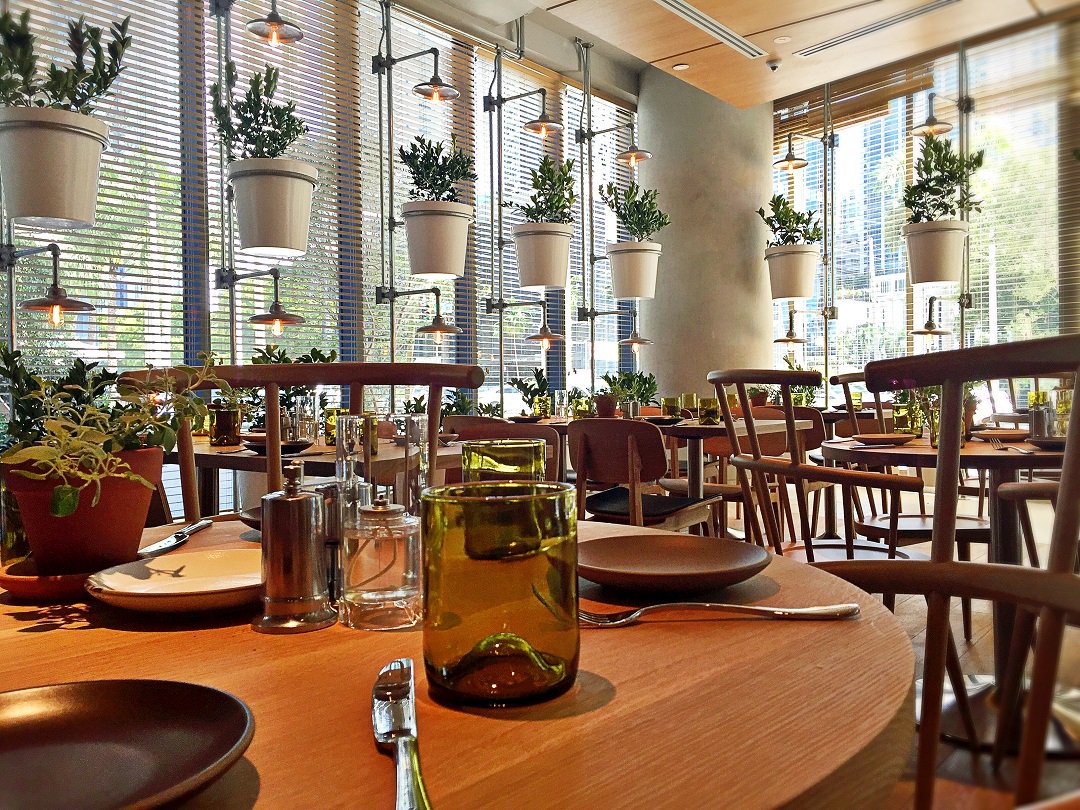 And for every visitor to Fi'lia, the show-stoppers of the space are very likely the dancing flames of the Wood Stone wood-burning stone-hearth oven and the Grillworks wood-burning grill. Also drawing attention: custom-made Caesar salad carts fitted with mini-griddles to toast garlic bread to order.
But what alert restaurant kitchen designers might notice instead is the way the well-equipped bar just past the hospitality desk morphs into a food bar, supported by the stone-hearth oven and the wood-fired grill, which then morphs back into a liquor bar—some 46 ft. in all. 
Fi'lia's Challenges
"We were tasked with creating a kitchen that could operate independently of the hotel's kitchen and banqueting," says J. Russell LeBow Stilwell, FCSI, Owner of Next Step Design, Annapolis, Md., the lead kitchen designer for both Fi'lia and Bazaar Mar, and SLS Brickell's banquet kitchen, as well as many of Schwartz's earlier restaurants.
"But the culinary program we wanted to do and the building we were working in did not want to be friends," he adds with some major understatement.
Early in the design process, Schwartz asked for a display cook-line that included a stone-hearth wood-burning oven and a wood-burning grill. The two stations would be responsible for producing more than half of Fi'lia's menu items, with a behind-scenes kitchen handling prep work and the remaining menu items. The solid-fuel equipment required a ventilation system separate from the back-of-house cookline.
"Our challenge was how to situate the hoods to exhaust from both the solid-fuel area and the back-of-house with its gas cooking equipment," Stilwell says.
Fire code requires that each fuel system (wood and gas) gets its own ductwork and precipitators, large boxes used to remove embers and effluent before venting the hot air safely outside.
Sheer walls and elevator towers stole space and blocked potential ductwork runs. At the same time, there was no room in the restaurant's core for precipitators—"the size of a couple of Mini Coopers," Stilwell says of the units. In the end, "we ended up putting the precipitators on the mezzanine area in what had initially been tagged as a conference room, and were able to weave the ductwork into the right spot near the parking garage for ventilation."
 Fi'lia's heart lies in the long bar, with its unique combination of cocktail and food production abilities.
"We discussed putting the bar on one side and cooking areas on the other," Stilwell recalls. In the end, that was deemed to be too boring. "We wanted the entrance to serve as Fi'lia's power area, its social hub, which required the bar," Stilwell says. "And we wanted guests to be able to see cooking action from either side of that wall dividing the dining room."
At the bar's center is the food expo area and wait-staff pick-up station. Next in line comes the artisanal grill, set into a hearth backed with red fire bricks, also supported by a prep table. Cast aluminum crank wheels allow cooks to adjust the cooking surface height according to the rise and fall of the flames.
Out of sight of guests, Fi'lia's scratch kitchen has its own solid line-up. "There's a deck oven and proofer for baking. The cooks make all the pastas, breads, pastries and ice creams. It's compact, but productive," Stilwell sums up. Because of the same issue with load-bearing walls cutting into work space, designers ended up stealing space from the mezzanine level for raw food prep and storage.
Coming up, Schwartz already is working on developing a second Fi'lia at SLS Baha Mar in the Bahamas.
As originally printed in FER Magazine fermag.com 
Discover how Specifi's Design software to provide architects and commercial kitchen designers all of the tools necessary to build all sorts of commercial kitchens.
Watch this 3 minute video to see how we can help you save time and assure the accuracy of your commercial kitchen projects
The post The New Concept of Italian Cuisine in Miami appeared first on Specifi®.