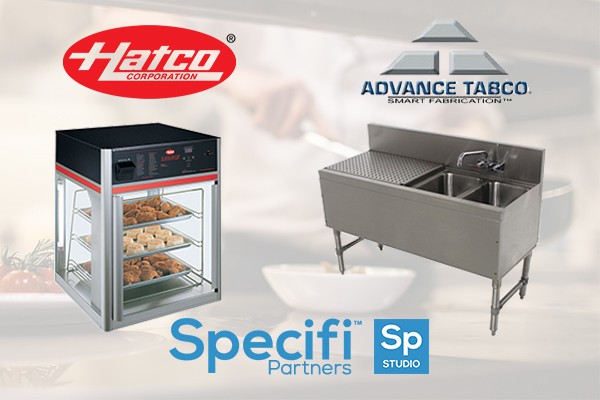 Agreement to provide Revit and CAD symbols for their entire catalogs
Chicago, IL – May 17, 2017 Specifi

LLC announced today that it  has reached an agreement to create and manage Revit and CAD libraries for Advance Tabco  and Hatco.
Both Advance Tabco and Hatco have taken advantage Specifi's Studio annual subscription offering that provides both companies with FCSI compliant CAD and Revit symbol blocks for all products in each of their respective product portfolios. The Unique feature and aspect of the Specifi Studio subscription is that the company's investment is protected against changes in file formats, standard changes or the need to update the products and their corresponding symbols due to new regulatory requirements.
In addition to being accessible in Specifi's flagship product Specifi Design, the product symbols will be available through each company's distribution platforms including KCL and their own websites.
Al Alderman, Vice-President of Advance Tabco explained: "Advance Tabco believes in making our products and our specifications widely and readily available to the entire industry. Specifi provides us a new and unique channel to bring Advance Tabco products to the wider marketplace. We expect it to be a cost-effective means to reach an expanded audience of specifiers, dealers and end-users with a simple, easy-to-use interface.
We intend that our partnership with Specifi will expand our distribution of our extensive Revit library, providing cutting-edge technology and up-to-date data to the food service equipment community. Specifi allows us to leverage our own internal design and symbol distribution efforts with an additional, well designed and broadly distributed channel." 
Utilizing proprietary database technology, Specifi Studio is the only service that uses an innovative real-time approach to assemble Revit and CAD symbols on demand.
Hatco's National Sales Manager Mark Pumphret said: "Hatco is a company that believes strongly in innovation so we're excited to see what Specifi

brings to our industry. We take great pride in providing the highest quality content. The Specifi model is designed to ensure that our Revit files and CAD symbols are always compliant with current FCSI standards. It is an exciting tool that will help ensure our consultants and specifiers have the best possible data at the ready."
The agreements with Specifi will see the creation of a complete repository of FCSI compliant Revit and CAD blocks, containing all the required elements to future-proof the data. Multi-platform availability of this information includes the Specifi DESIGN and QUOTE software packages, KCL, and each manufacturer's website It provides the foodservice community the assurance that they accurately and confidently specify, or quote  equipment wherever and whenever they wish.
Michael Greenwald, President of the Americas at Specifi added: "This is a great start to 2017 and we're obviously delighted to be working with two of the industry's innovators, to create and manage their product libraries. By subscribing to our content creation subscription service, our work will enable everyone in the business supply chain to work smarter and more efficiently. From specification through to project management and completion, the Specifi system pulls everything together seamlessly. In partnership with companies such as Hatco and Advance Tabco,  we intend to  create the world's most complete and accurate product repository. It is our hope that all manufacturers will recognize the importance and need to have the correctly formatted blocks and we're in a unique position to help."
The Specifi Studio offering enables foodservice equipment manufacturers to create FCSI compliant Revit and CAD symbols on demand that are specific to the accessories and options they offer on all of the product lines they enroll in the service. Using a unique software tool set, along with a full staff of content modelers with collective industry experience of over 50 years, Specifi is able to produce symbols for each configuration at a cost well below that of other industry content providers.
About Specifi

LLC.
Specifi LLC provides the only global, end-to-end solution supporting the foodservice equipment specification process. It includes a complete information repository as well as a comprehensive set of publishing, design, quotation and process/workflow tools. Each Specifi component can be operated as a stand-alone service alongside existing tools or as part of a complete end-to-end kitchen design/specification platform.
The post Specifi™ Partners with Advance Tabco and Hatco appeared first on Specifi®.